Sauteed Mushroom and Asparagus in Garlic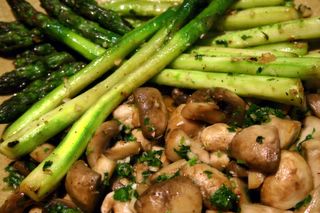 1 lb asparagus, peeled
2 cups button mushroom, if large quartered
4 cloves garlic, minced
7 sprigs cilantro, minced
vegetable oil
salt and peper to tatse.

Use a vegetable peeler to peel the asparagus, starting from the head, eliminate the fibrous peel. Cut off the woody part in the bottom, wash.
brush off the mushroom, quarter.
Add oil in a large pan over high heat, add asparagus, cook until soft ( 5-7 minutes depend on how thick or thin the asparagus is). Add garlic, salt and pepper, stir well for 2 more mins, add cilatro.
Same with the mushroom.