Braised Salmon in coconut juice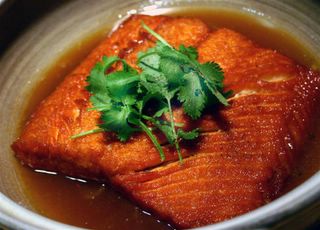 1 lb salmon filet
1 can coconut soda
1 shallot, minced
1 T fish sauce
vegetable oil

Heat oil in a large pan over high flame, fry salmon until golden brown.
In a clay pot, put 1 t. oil, turn to high heat, add shallot and cook until fragant.
Add fried salmon filet, pour in coconut soda, turn heat to low, cook until coconut juice turn dark yellow, add fish sauce and cook for 10 more minutes.