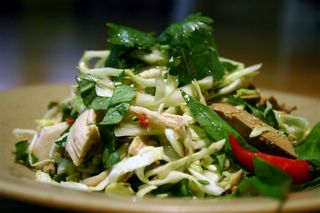 2 cups cooked chicken breast and cooked chicken liver, shred into bite-size piece
2 cup cabbage, shredded
5 T fresh lime juice
2 T fish sauce
1 T sugar or more to taste
2 cloves garlic, minced
3 shallots, thinly sliced
3 red hot chili pepper, sliced
2/3 cup Vietnamese coriander leaves, thinly sliced
fresh ground pepper to taste

In a salad bowl, combine everything. Separate shallot slices into rings. let stand for 30 minutes. Grind pepper over when served.