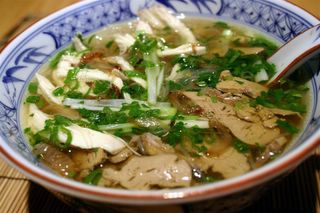 chicken half breast
1/2 lb chicken liver, cooked, thinly sliced
5 small packs cellophane noodles, soaked in warm water
2 shallots, thinly slices
1 T. fish sauce
2 green onion, diced
6 sprigs cilantro, diced
salt and pepper to taste.

Put 5 cups water in a medium pot, place chicken breast with bones intact in, bring to boil. Skim off scums, and turn heat to medium cook for 20 mins, remove chicken, sliced.
Fry shallot in a seperate pan until golden brown, add to the stock pot. Add fish sauce, salt and pepper to taste. Add noodle in and bring back to boil. Serve immediately with chicken breast and liver. Sprinkle green onion and cilantro on top.