Caramel Lemongrass Chicken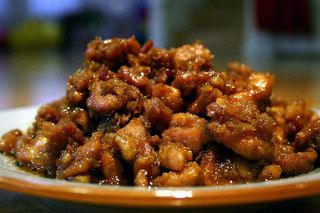 1 lb skinless chicken thigh, remove bones and cut into small pieces
4 stalks fresh meaty lemongrass, cut off leaves and finely chopped
2 shallots, minced
2 cloves garlic, minced
3 T sugar
2 T fish sauce
salt and pepper to taste

Marinate chicken with lemongrass, shallot, garlic, 1 T sugar, fish sauce for 30 mins.
In a medium pot, add 2 T sugar and turn on high heat, cook until the sugar melt to golden caramel color. Add chicken and stir well, cook for 5 mins then turn heat to medium. Stir occasionally and cook for 20 more minutes or until the chicken well cook and has golden brown color. Add salt and pepper to taste.